DIVING IN RAJA AMPAT
Raja Ampat, which means "Four Kings", is located in the West Papua province of eastern Indonesia.
The 'four kings' are the islands Misool, Batanta, Waigeo and Salawati.
But the area is actually made up hundreds of islands, some inhabited and many not.
Raja Ampat is remote and offers some of Indonesia's most pristine reefs and breathtaking scenery.
The majority of resorts are in the north of the region whereas the south is usually accessed by liveaboard.
THE BEST DIVE SITES
Cape Kri – With 374 species of fish being counted in one single dive, this dive site is an actual record breaker!
The stunning reef top is a kaleidoscope of colors and healthy, vibrant soft and hard corals create a beautiful garden.
Black and white tip sharks pass through, reef fish swarm around and turtles lazily cruise by.
If you venture deeper you'll find schools of sweetlips beside bommies which are literally shrouded in glass fish.
This site is one of Raja Ampat's most famous and never fails to impress even the most seasoned divers.
Boo Rock / Boo Windows – One of Raja Ampat's most iconic and most photographed dive sites, Boo Rock/Windows takes its name from the two swim-through holes in the rock.
This dive site showcases the biodiversity of the Misool area with schooling fish, incredible corals and stunning underwater topography.
Expect to see everything from the smallest of critters to passing pelagics.
Magic Mountain – Located in the southern Misool region of Raja Ampat, this impressive seamount and extending ridge is swarming with fish.
On a good day you'll see numerous manta rays, Napoleon wrasse, schools of snappers, jacks, trevallies, Spanish mackerel, barracuda and reef sharks
all joining in on the action.
Blue Magic – Located between the island of Kri to the southwest and the island of Waisai to the northeast, features an underwater pinnacle that failed to break the sea surface.
The top of the pinnacle is in around 7m/23ft of water, and the almost vertical walls go down to a depth of approximately 30m/98ft.
The dive site is popular with divers because it features lots of pelagics.
Big pelagic fish gather at this dive site to feed or to be cleaned and can be observed by divers on a regular basis.
Raja Ampat is a huge area and home to innumerable dive sites, which offer diverse topographies and marine life. Other notable sites in Raja Ampat include Melissa's Garden, Mansuar, Mike's Point, The Passage, Fiabacet and Mioskon Island.
WHAT TO SEE
Raja Ampat dive sites are all about diversity and abundance.
Whether you're looking to dive with pelagics or critters Raja Ampat will deliver.
Highlights include: large schools of fish, manta rays, reef sharks, wobbegong sharks, walking sharks, turtles,
Spanish mackerel, tuna, barracuda, pygmy sea horses, nudibranchs galore, ghost pipefish, cuttlefish, crustaceans and stunning pristine coral reefs.
LIVEABOARD or DIVE RESORT
There are over 1500 Islands in the Raja Ampat archipelago!
With a Liveaboard, you can visit many Islands and you can explore the Northern and Southern parts of the Archipelago with the stunning Island of Wayag and Misool.
AREA
The Raja Ampat archipelago, part of the Coral Triangle.
Located at the northwest corner of Indonesia's West Papua province.
encompassing 40,000 km² of land and sea and including a series of more than 1,500 islands which surround the main islands of Misool, Salawati, Batanta and Waigeo.
GETTING THERE
Sorong Airport (SOQ) is the common access point and most liveaboards and dive resorts offer airport pickups and transfers.
It is also possible to fly into Waisai but it's a less popular pick up point so you should be prepared to get yourself to Sorong from there. Some Komodo liveaboards also sail to Raja Ampat from Labuan Bajo.
MAIN AIRPORT
Sorong, Domine Eduard Osok Airport (SOQ)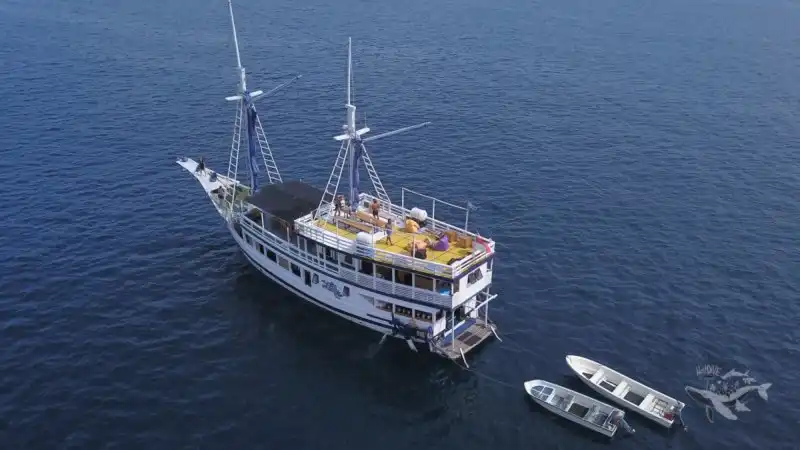 Budget
Liveaboard
30 Jan - 07 Feb 2020
---
Transfers Airport-Harbor-Airport in Sorong,
8 Nights stay in AC cabin of Blue Dragon LOB,
Fullboard Meals, Mineral Water, Coffee, Tea and Snacks,
Tanks, weights, weight belt and    
Dive guide/dive master services.
Premium
Liveaboard
20 - 28 Jan
2020
---
Transfer to & from vessel between airport to harbour
Full-board accommodation for 8 nights
Meals while on board, Lunch on check in time, Breakfast on check out time
Mineral water, tea, coffee, tea-time snacks & soft drink
Water sport activity Equipment: Snorkelling, Rubber Canoe, Kayak, Seadoo Scooter
Photos and videos from the trip to take home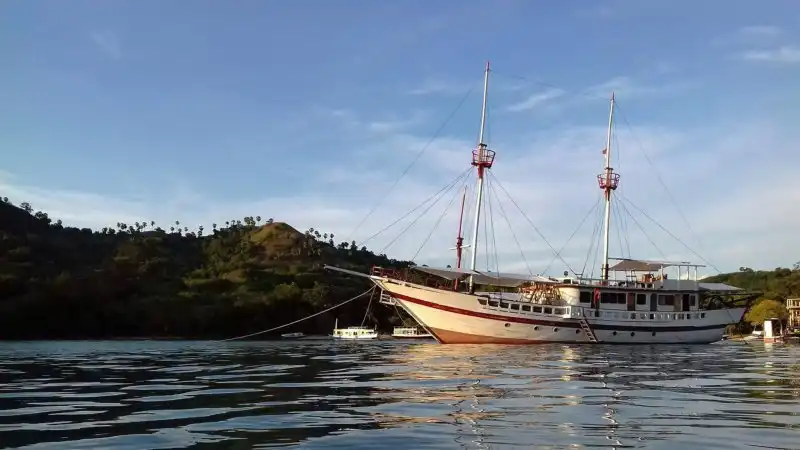 Open Trip
Liveaboard
03 - 15 Feb
2020
---
Transfers Airport-Harbor-Airport in Sorong,
8 Nights stay in AC cabin of Blue Dragon LOB,
Fullboard Meals, Mineral Water, Coffee, Tea and Snacks,
3 - 4 Dives a day depends on condition,
Tanks, weights, weight belt and
Dive guide/dive master services.
NOTE
Certified Divers
Sign - General Release Dive Indonesia
Sign - Liability Release and Assumption of Risk Agreement for Dive Center / Dive Resort / Boat Travel / Liveaboard
Maximum Depth 30 Meters, Maximum Time 60 Minutes/dive. Multi Level Dive.
DSMB (Delay Surface Marker Buoy) Is Recommended For You to Carry
Follow Your Dive Guide, Solo Dive Is Prohibited
Don't Forget To Analize Your Nitrox Tank and fill the Nitrox Log Form
Please Wait 18-24 Hour before Flight
Do Not Surface Under the Boat
Disallow Deco Dives
Agreed Terms and Conditions