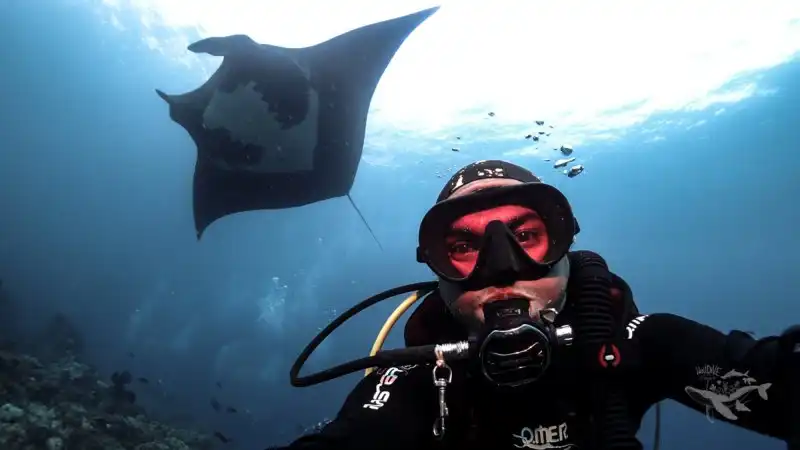 After few years did travel around Southeast Asia and Indonesia…
June 2014, I took my first scuba diving license in Gili Trawangan, Lombok. I was amazed by my first bubble that came out from my breathing. It just different kind of diving, I love it more than before as I used to do freediving and snorkeling a lots.
6 Months after, I decided to leave my hometown, Jakarta. My first reason is to dive more, so I sent email to one of the dive shop in Lembongan Island called World Diving Lembongan. I said to them "I want to be divemaster and stay with you guys". World Diving said "Yes, We will support you". Pak John and Ibu Sue supported me a lots with their loves.
Took few months hard work until I certified as I divemaster (from openwater diver). I worked and dived a lots as a divemaster and guided people to dive. I believe, this is passion to show people about beautiful world specially underwater world.
Chance to be a dive instructor came after 8 months worked as a divemaster. I did my Instructor Development Course with Cody from Blue Corner in Lembongan. I could say, this guy is one of the best teacher who I had in my life.
As I love to travel before, I took some days off when it's not very busy in the island. I dived in several different places in Indonesia. Like Alor, Komodo and Raja Ampat. Trust me, Indonesia is underwater heaven.
Then, I tried to invite my friends from Lembongan to do dive trip with me to Komodo in May 2017. Most of them are pro divers who are living in Lembongan. I arranged the trip, booked the liveaboard, booked the airfare tickets and accomodation. They wanted to cry when the trip is over! It was top class trip! For some of them and me, I couldn't forget how amazing the trip is.
Someone said "why you're not own your dive trip organizer??". Oh yeah, why not!!!
So I started it again, I invited my friends to do 10 days trip In Raja Ampat on February 2018. Again. I couldn't say anything else, but I think they love it so much.
Then, I tried to book some boats for next trips….. If you're thinking you're an awesome person, you need to join me on board.
If you're easy to get seasick, I could dive with you from shore too… Don't worry…
Holidive